Welcome to M. Adler's Son
We finally transitioned and we are only selling script and leaves. If

you would like to place an order, please email me at

alectadler@gmail.com

or

call (919)606-2927 to place an order.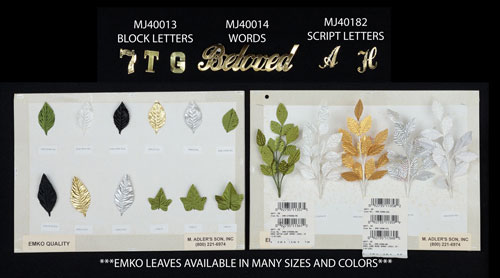 WE ACCEPT MASTERCARD, VISA , AMERICAN EXPRESS.

ALL SHIPMENTS ARE F.O.B. RALEIGH, NORTH CAROLINA.
To Review Our New Products
---
M. Adler's Son, Inc. is now in its third century of serving wholesale florists. Marcus Adler founded the company in the 1800's. The company is now in its fifth generation and is still family owned and operated. Our main showroom and warehouse is in Raleigh, North Carolina.
We have been importing various items for over 65 years. M. Adler's Son, Inc. is proud to be the sole distributor of Emko leaves (the best satin leaf available on the market). Our merchandise is sold and distributed in all 50 states and several countries. We believe in providing the customer with friendly service and quality products. Please browse our website and see why we have been in business for 3 centuries.